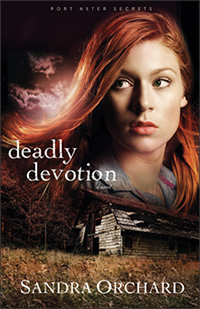 I had the opportunity to review another book as part of Revell Books Blog Tour. One thing I love about reviewing books is I have the opportunity to read new authors' writings.
"Deadly Devotions" is another suspense fiction book. It is set in a town called Port Aster in Canada. The main character is certain that her friend did not commit suicide as the police have determined. Since she cannot seem to get the police to reopen the investigation, she investigates herself.
Ms. Orchard grabs your attention very early on in the book and keeps you wanting to turn the page so you can get to the end to figure out who actually did the crime. I was disappointed that I kept having to put the book down because my schedule has been so crazy the last couple of weeks. I would have much rather been reading!
I'm generally able to figure out a "who dunit" prior to the ending; however, in this book, Ms. Orchard writes in a way that you are kept guessing until the very end and the "big reveal" of the person responsible.
"Deadly Devotion" is the first book in a series and I will definitely be reading more that are to come!
Sandra Orchard is an active member in American Christian Fiction Writers, The Word Guild, Romance Writers of America and a local writing group. She recently participated in the Writers' Police Academy for hands-on training and simulations at a police training facility. She is the author of Shades of Truth, Critical Condition, which won the 2012 RT Reviewer's Choice Award for it's series and Deep Cover, which won the Canadian Christian Writing Award for romance in June 2012 and was recognized as one of the top five novels of the year by Family Fiction magazine. Orchard has also received a Daphne DuMaurier Award for Excellence in Mystery/Suspense in both the inspirational category and for best score overall. She lives in Niagara, Ontario, Canada. To find out more, please visit
www.sandraorchard.com
.
To read an excerpt from the book you can click
here
. You can also connect with Ms. Orchard on Facebook by clicking
here
.
"Deadly Devotion" is available June 2013 at your favorite bookseller from Revel, a division of Baker Publishing Group.
I was provided a copy of "Deadly Devotion" in exchange for my honest review. My thoughts have no way been influenced by the receipt this book.